If your wall controller is designed to shutdown cleaning mode, the cooler will open the clean function automatically when shutdown. The default of shutdown cleaning mode is closed.
On the state of shutdown, press the button of and for 5 seconds, can turn on and turn off the shutdown cleaning mode.
If shutdown cleaning mode is enabled, turn the cooler off, the cooler will operate as follows:
(1) All functions will be closed except the clean function, CLEAN icon shows on wall controller.
(2) 5 minutes later, cleaning function will turn off automatically. The screen shows nothing.
Note: The settings of shutdown cleaning mode will be stored automatically and continue to use in next reboot.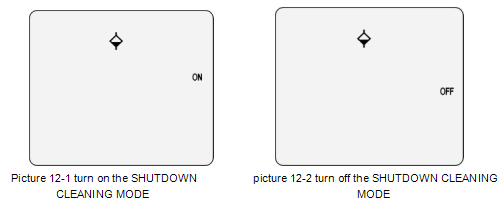 Maintenance
(1).It is to be noted to change the water while the cooler is in work to avoid incrustation.
(2).The filter pads should be cleaned more often to keep the cooling efficient. Do not use water above 40℃. Banister brush can be used softly to scrub away the dust on the pads.
(3)The water supply should be shut off to avoid bacteria as well as cold weather. It is also recommended covering to protect the cooler in some dusty and snowy cities.
(4).We recommend to clean the pad every month to keep the cooler under best condition.
Temperature decrease form of Evaporative air Cooler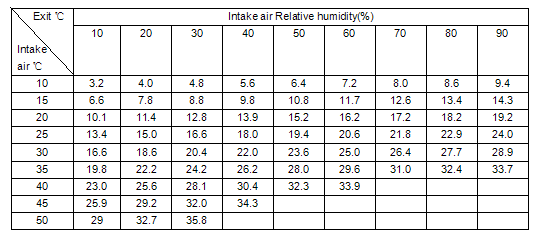 Troubleshooting